Back to News
A Generous Donation for the French River VAA Family Walking Trail
November 23, 2022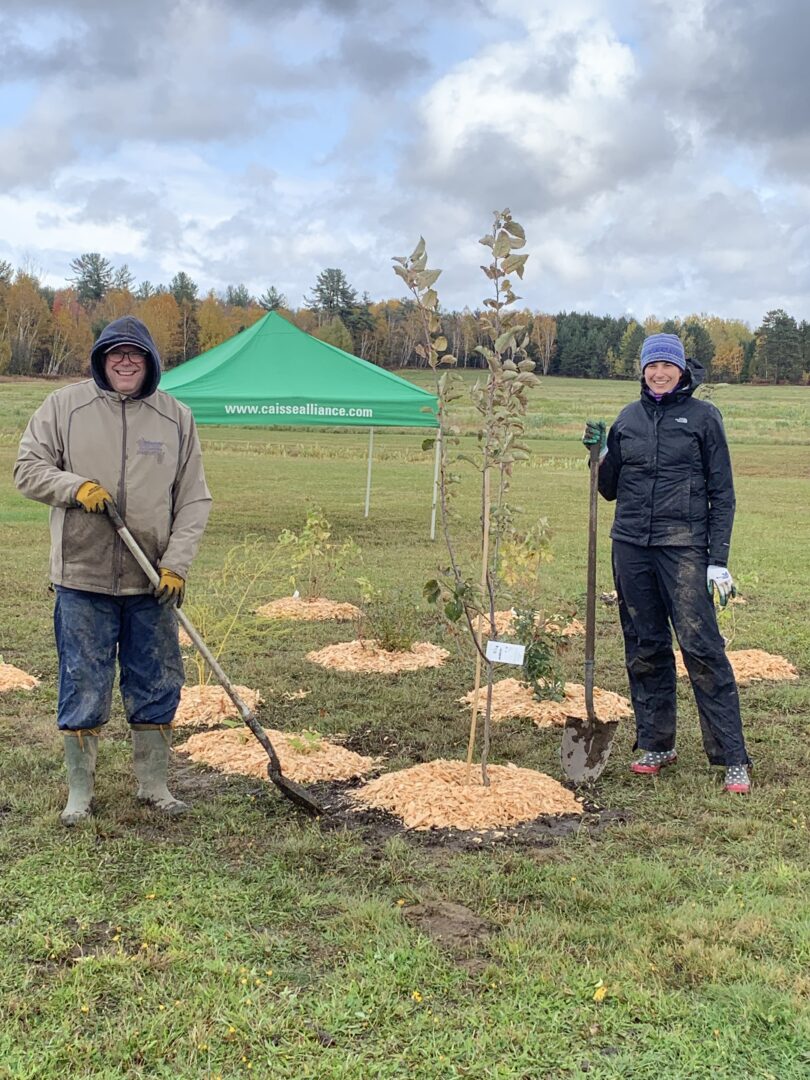 NOËLVILLE, November 23rd, 2022- The French River VAA (Village amis des aînés) Family Walking Trail received a $ 5 000 donation from the Caisse Alliance as part of their program Eco-solution- Growing Together, that went towards the purchase of trees to beautify the trail. On October 15th 2022, a group of volunteers braved the rain and the winds to plant the trees alongside the walking trail in Noëlville.
There are a variety of different type of trees such as red, sugar and silver maples as well as red oaks that can be found alongside the trail leading up to the entrance into the forest. In addition, three small separate food forests were planted thanks to another donation from the Municipality of French River. Each food forest has apple or pear trees, asparagus, raspberries, blueberries, strawberries and gooseberries.
"On behalf of the French River VAA Family Walking Trail, I would like to extend my sincere thanks to Caisse Alliance and the Municipality of French River for their generous donations. We are very grateful to work alongside our local partner agencies that support our community projects and help beautify our community. These trees will result in increased biodiversity and will leave a green legacy for future generations."  -André Gélinas, Vice-President, VAA
These trees and the food forests provide a space for recreational opportunities, local engagement and environmental awareness that will improve the community members' quality of life and their connection to nature.
Our heartfelt appreciation to all of our volunteers, the Municipality of French River, Caisse Alliance, Univi Health Centre and Public Health Sudbury & Districts for their work in making this day a success, Sonia Préfontaine, André Gélinas, Normand Gélinas, Peter Beckett, Jason Cuff, Dave Séguin, Bruno Fortin, Stéphanie Brunet, Stéphane Méthot, Lisette Lamoureux and Sarah Trottier.